《主播的家当》-黄庆军
The Stuffs of Live Streamers
2020年初突发的疫情限制了人们的出行,两年内人们的日常生活和消费习惯发生了很大的改变,身处在后疫情时代的人们通过智能手机来感知社会,短视频直播间成了个人展示才艺的窗口。2021年底我想拍摄一组《家当》系列作品的分支《主播的家当》,于是我找到了快手平台、得到快手的支持,经过多日的磨合、联络,得到一些有特色的主播的许可,拍摄了他们直播间的家当,这里面有大学教授、演员、卡车司机、草根、保镖、小生意人、外卖小哥、非遗文化从业者、信鸽赛事主播等。很遗憾因为疫情还有一个主播没有拍成。这些作品是众多直播间的一个切面,网络的发展给了大众广阔且更加自由的选择空间,于他们而言,直播间是互联网变迁、个人命运跃升、社会新兴生产力和消费升级的见证媒介,同时,生发于直播间的"老铁情谊"也是一部分人的精神寄托。聚焦他们的直播间的家当、他们赖以生存的谋生工具,能看到一个时代的流变。
The sudden pandemic in 2020 has limited our outdoor activities. People's daily life and expending habits have changed dramatically during the past two years. We that live in the post-pandemic era tend to know the society through smartphones, thus making short video streaming rooms a pathway to show talent. I intended to shoot a new branch of the <Family Stuff> series, <The Stuffs of Live Streamers> by the end of 2021, so I turned to Kuaishou for support. With the help of Kuaishou and days of efforts to get engaged and suited, I have acquired permission from live streamers with great characteristics and shot their 'stuffs'. These streamers consist of a professor in the university, an actor, a truck driver, grassroots, a bodyguard, a small business owner, a food deliveryman, an intangible cultural handcrafter and a streamer for carrier pigeon matches. Sadly I did not have the chance to cooperate with the other streamer due to the impact of the pandemic. These works provide a perspective to observe the live streaming career. As the development of IT technology gives us broader room and freedom to choose from, streaming rooms become an epitome for Internet changes, personal success, productivity development and expenditure upgrade. Meanwhile, the 'Fellowship' which originates from streaming rooms also provides people with spiritual belongings. Our focus on their 'stuff' and living tools bear witness to the changes and development of our times.
Huang Qingjun
Dec.2021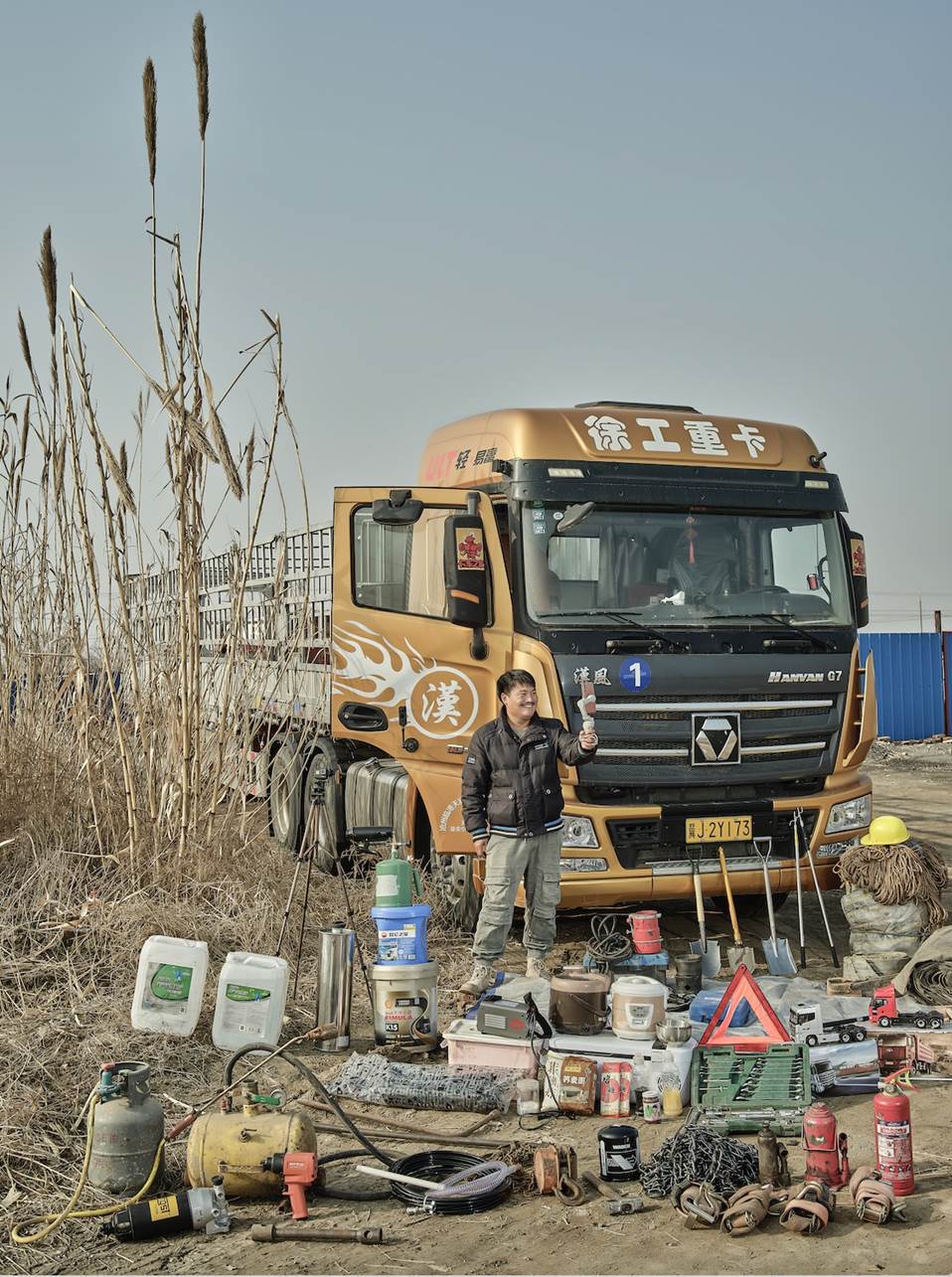 图片说明:
1、走南闯北的老三
40岁,沧州人
直播地点:卡车驾驶室
直播间面积:2.5平米
最重要的直播间家当:卡车
老三开了快二十年卡车了,行车距离达300万公里,中国所有省份他都去过,确实称得上走南闯北。2019年老三第一次在快手上做直播的时候,发现传播和卡车相关的专业内容,直播比其他的形式更直观,更方便。至今为止,他已经在快手平台上积攒了70万粉丝,其中至少有70%是卡车司机,他们讨论的问题也大多围绕着卡车和驾驶。老三的的直播家当,除了给卡车用的,就是给直播用的。新的一年,他的梦想是添置一台大疆的飞行器直播时用——但那要媳妇儿点头同意才行。
1. Lao San the Trekker
40 years old, from Cangzhou, Hebei Province
Streaming room: His truck driving room
Room area: 2.5㎡
The most important 'stuff' for streaming: His truck
Lao San has been a truck driver for nearly 20 years. With a remarkable driving record of 3 million kilometers, Lao San has travelled across every province of China, no wonder he credits himself as a 'trekker'. When he began his live-streaming career in Kuaishou, he surprisingly found that it is much more convenient and straightforward to convey professional ideas for trucks by live streaming. Up to now, Lao San has more than 700k followers on Kuaishou, whilst 70% of them are truck drivers. Trucks and driving topics are always the favorite topics of his live-streaming room. As his passion shows, Lao San's 'stuff' are either for trucks or live streaming. As the new year is coming, Lao San hopes to add a Dajiang aircraft to his personal 'treasure', so that he could promote his live-streaming career——yet he certainly needs to get permission from his wife first.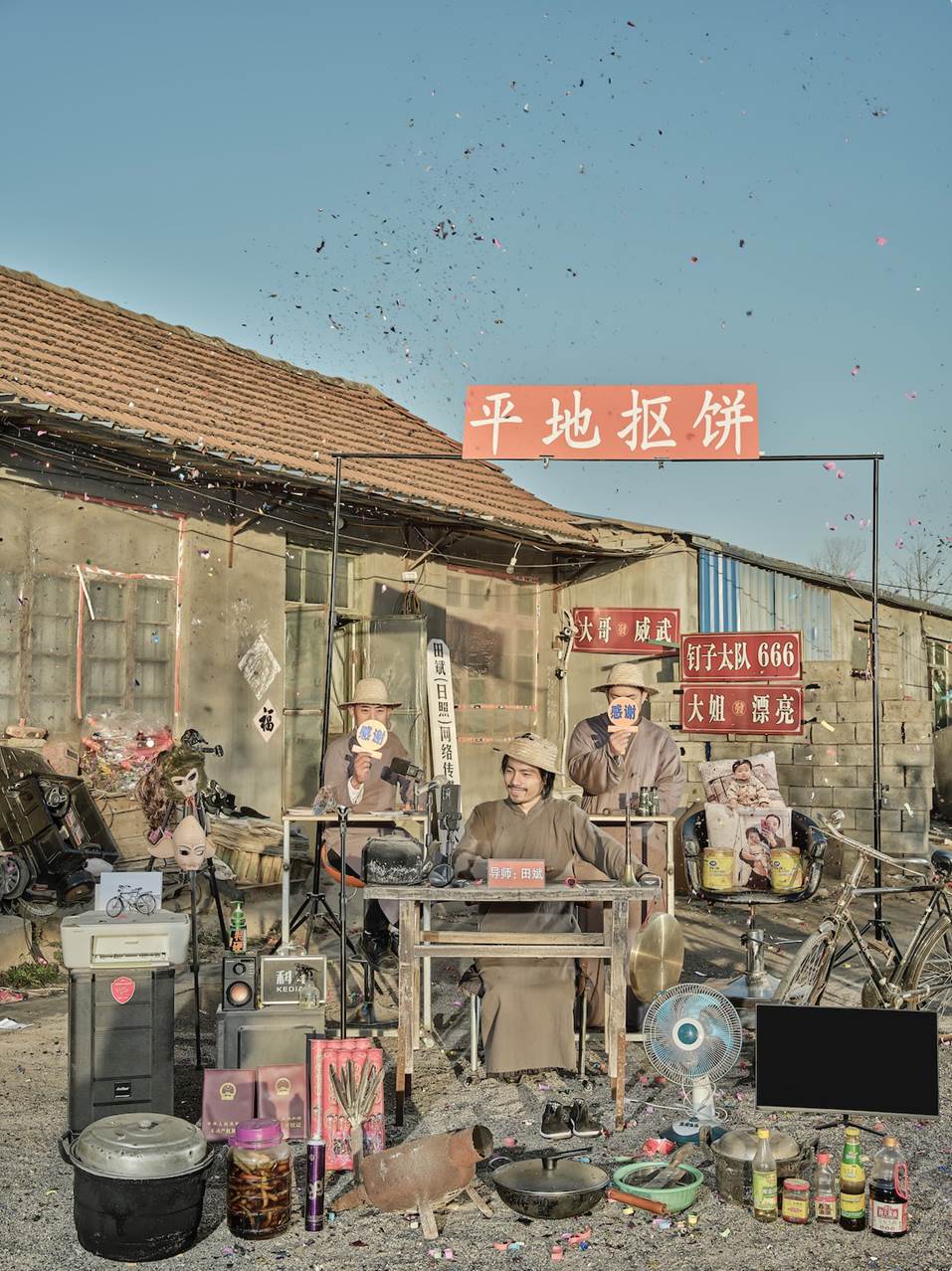 图片说明:
2、 田斌+逗你玩
25岁,山东莒县任家庄村
直播地点:家中杂物间
直播间面积:40平方米
最重要的直播间家当:直播用的桌子——一张老式课桌
山东小伙子田荣国从小醉心周星驰的喜剧,梦想成为演员。长大后,他搬过砖,干过美发,也编段子,拍短视频,做直播,但这些都没有让他热血青年绝地逆袭的美梦实现。直到2021年6月,在快手的直播间中,他被一个"梗"意外砸中,从此爆红,粉丝量突破700万。如今他是一身灰色长衫、头戴破洞草帽的"导师田斌",直播间里到处塞着宝贝:大金链子、没镜片的迷彩望远镜、玻璃做的大钻戒、破镜子,两个摞在一起的快递盒用来固定手机,七扭八歪的木架子上面支着环形灯……这些,最终改变了他的命运。
2. Tian Bin the Comedian
25 years old, from Renjiazhuang, Juxian, Shandong Province
Streaming room: His storage room at home
Room area: 40㎡
The most important 'stuff' for streaming: His desk for streaming—an old-fashioned classroom desk
Tian Rongguo is a young lad from Shandong Province. Influenced by Stephen Chow's comedies, he has been dreaming of becoming an actor from a young age. When he grows up, he has tried various occupations: Worker, barber, comedy writer, short video maker and live streamer. However, none of these jobs helped the youngblood realize his comeback dream until he came across a meme on the Internet in July 2021. With the help of the meme, Tian acquires 7 million followers and becomes famous overnight. Tian claimed himself to be 'Tian Bin the mentor', a funny figure dressed in a grey long shirt and ragged straw hat. Moreover, there are so many hidden treasures in his streaming room: Fake gold chains, binoculars without lenses, a fake diamond ring made by glass, a broken mirror, two cardboard boxes to get his phone fixed and loop lamps set up on twisted wooden shelves. These strange funny figures provide him with a chance to change his destiny.
图片说明:
3、高治晓
33岁,宁夏固原
直播地点:出租屋
直播间面积:10平方米
最重要的直播间家当:手机支架
没开饭店之前,高治晓就是个外卖小哥。攒了几年钱,开了个饭店,后来因为疫情,饭店黄了,他又干回了外卖小哥。但他可不是普通的外卖小哥——他上过时代周刊,现在在快手上有8.4万粉丝。每天跑完单回到家开直播,就差不多是10点以后了。不过这不影响观看量,他的大部分粉丝也都从事这个行业,作息时间相近。直播内容很日常,跑单经验,外卖趣事……都从生活中来。他的家当中,除了做饭的家伙,最多的是鞋——这是送外卖的耗材。衣服倒不需要,天天穿制服,一年也买不了一套。最重要的是手机支架,他指着这个宝贝说,没了它就没法直播了。至于手机,两年内丢了四五部,所以,也是耗材。
3. Gao Zhixiao
33 years old, from Guyuan, Ningxia Province
Streaming room: His tenement
Room area: 10㎡
The most important stuff for streaming: His phone stand
Gao Zhixiao worked as a food deliveryman before he opened his own restaurant. It took him several years to raise the fund needed. However, his restaurant closed down due to the coronavirus pandemic, so that he had to go back to his previous job. Gao is not any ordinary delivery guy: With 84k followers in Kuaishou, he was once introduced in Time magazine. As the result of a day's hard work, Gao usually opens his live-streaming room after 10 pm. Nevertheless, his schedule has not influenced his view counts badly. Most of his followers share the same occupation with him. The daily routines of Gao's streaming are often delivery experience and funny things met in work, all of which come from his daily life. Apart from kitchen utensils, shoes make the most of Gao's 'stuff' for they could be easily worn out at work. As for clothes, he does not need to buy any for himself since he is required to wear the uniform during daily delivery service. When it comes to the most precious item among his 'stuff', Gao believes it would be his phone stand. As he says, his phones are consumable since he has lost several phones in two years, yet he cannot live stream without the phone stand.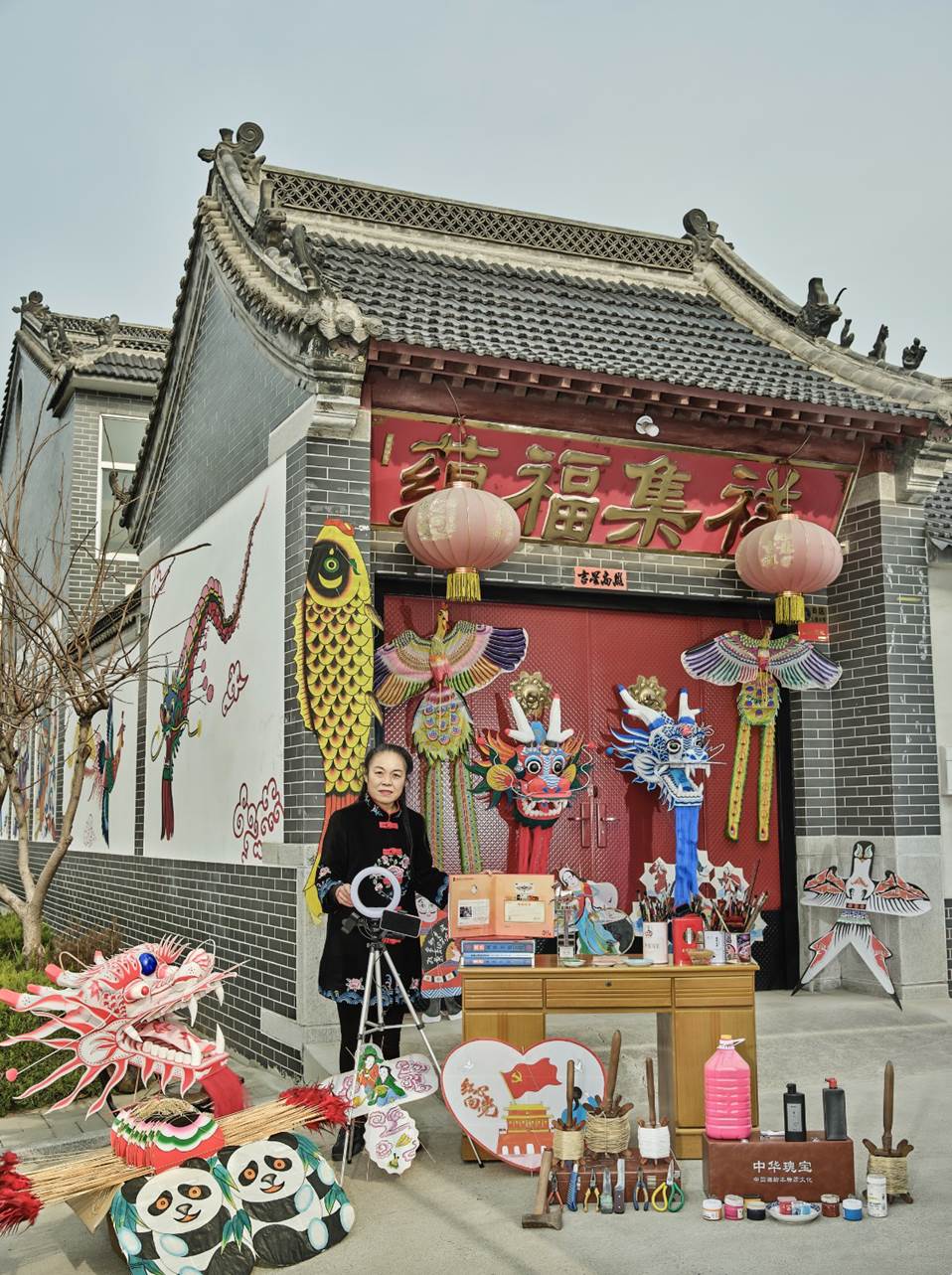 图片说明:
4、 潍坊风筝杨红卫
55岁,潍坊杨家埠
直播地点:工作室
直播间面积:50平方米
最重要的直播间家当:风筝作品
杨红卫做了36年的风筝。她出生于风筝世家,也是这项国家项目和非遗保护项目的传承人。现在的风筝分为七大类,串类的,板类的,硬制的,软制的……杨红卫的工作室都有涉猎。在快手上,真正能制作龙头蜈蚣风筝的还是屈指可数,杨红卫是其中的一家。直播做风筝,杨红卫是从2019年开始的,我国的风筝文化源远流长,足有两千年的历史,其中的典故、技术、传说,杨红卫一边做风筝,一边在直播间里分享给粉丝们。当然,最开心的瞬间,还是看着做好的风筝冉冉升空。杨红卫的家当挺简单,大部分都是美丽的风筝,如果放大照片仔细观察,还可以看到那些整整齐齐排列好的制作工具。那把小刀是她使用了三十多年的得力助手,很旧,但依然很锋利。
4. Yang Hongwei the 'Kite maker'
55 years old, from Yangjiabu, Weifang
Streaming room: Her workshop
Room area: 50㎡
The most important 'stuff' for streaming: Kite works
Yang Hongwei has been making kites for 36 years. She was born in an old and well-known family for making kites, thus becoming the successor of a national intangible cultural heritage. Nowadays, kites are usually classified into 7 types: Stringed, wood-based, hardened, softened…Yang's workshop has engaged with all seven types of kite production. Few can make Dragon-head centipede kites in Kuaishou, except for Yang. Yang has begun streaming in Kuaishou in 2019. While making kites, she usually shares the technique, allusions and legends which originates from China's 2000-year-old kite culture with her followers. Watching own-made kites rising into the sky would be the most satisfying moment for Yang. Yang's 'stuff' is pretty simple, fancy kites make up the most of them. If you zoom in on the picture and observe carefully,you can discover some well-displayed instruments for kite-making. The knife has been Yang's consistent helper for over three decades. It appears to be old, yet remains sharp as ever.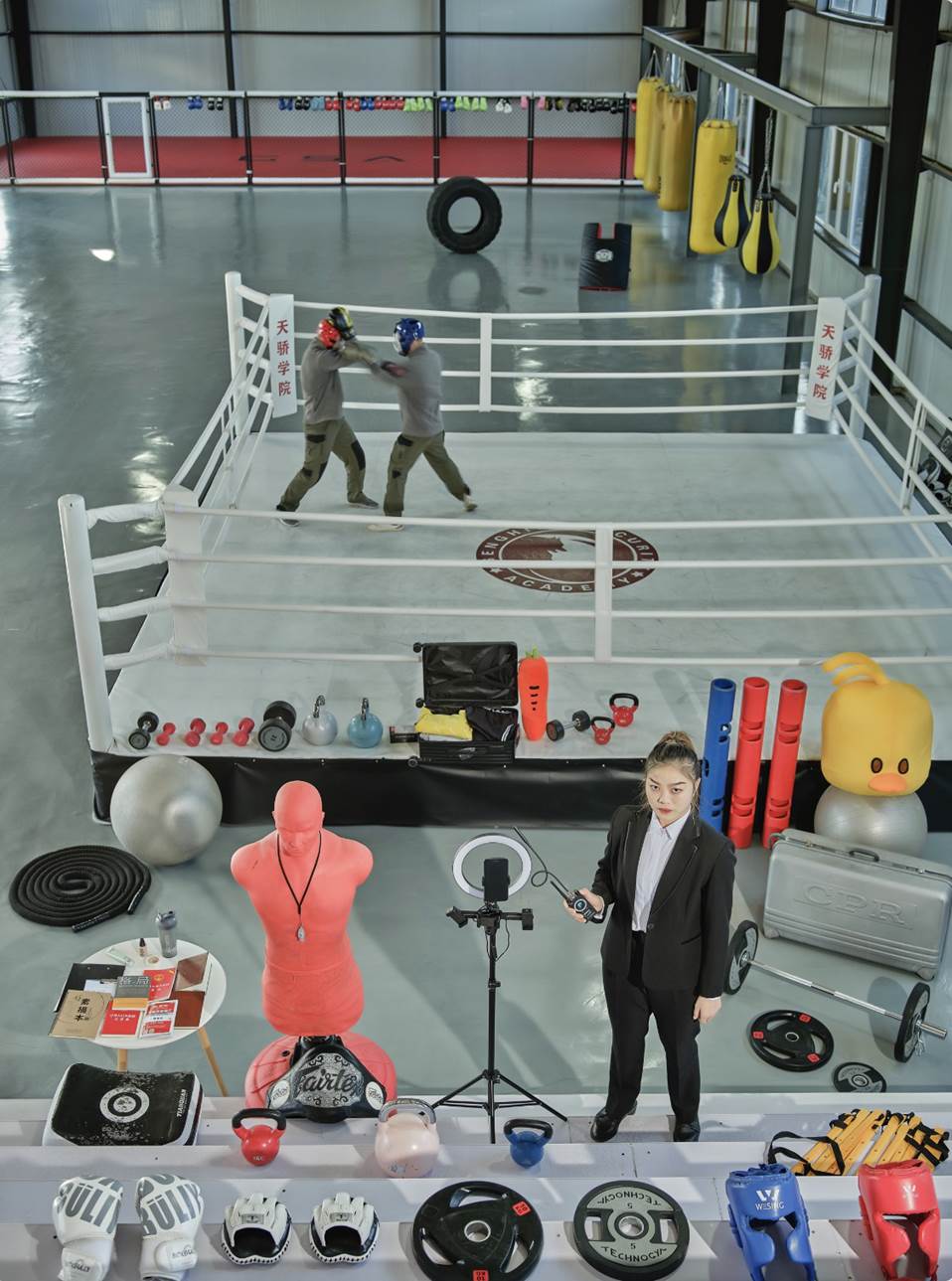 图片说明:
5、女保镖张美丽
21岁,四川自贡
直播地点:健身房
直播间面积:100平方米
最重要的直播间家当:拳击手套
在快手,做直播的职业保镖不多,做直播的女性职业保镖,几乎就只有张美丽一个。第一次直播时,张美丽拿了张A4纸照着念,语气生硬,她觉得效果不好。后来越做越多,她放松下来,也习惯了很多。直播间分享的内容,除了女保镖的日常,还有张美丽最想分享给女性朋友的一些自我保护课程。现在每天吃完晚饭,张美丽会留出专门的时间,刷刷别人的直播,看看人家是怎么调动气氛的。这个21岁的年轻姑娘不仅好学,而且意志坚定。从四川来到北京保镖学校的第一天,她就在这里跟男学员实战了一场,那场她输了。不过,现在的她不会输给任何人。
5. Zhang Meili the Bodyguard
21 years old, from Zigong, Sichuan Province
Streaming room: Gym
Room area: 100㎡
The most important 'stuff' for streaming: Her boxing gloves
There are few bodyguards streaming in Kuaishou. When it comes to female bodyguards, Zhang Meili is merely the only one who does live-streaming. During her first live-streaming experience, Zhang simply read what she has previously written on an A4 paper. She found her tone to be stiff and the result to be not good enough. As her live-streaming experience gradually accumulates, she has learned to relax and finally got used to living streaming. Apart from her daily routine as a female bodyguard, she also shares some self-protection skills with her female audience. Zhang would take some time to watch other streams every day after dinner so that she can learn how other streamers get engaged with the atmosphere. This 21-year-old young lass is not only eager to learn but also determined. She has fought against a male trainee the very first day that she came to learn bodyguarding in Beijing. She lost that combat, yet she would never lose to anyone now.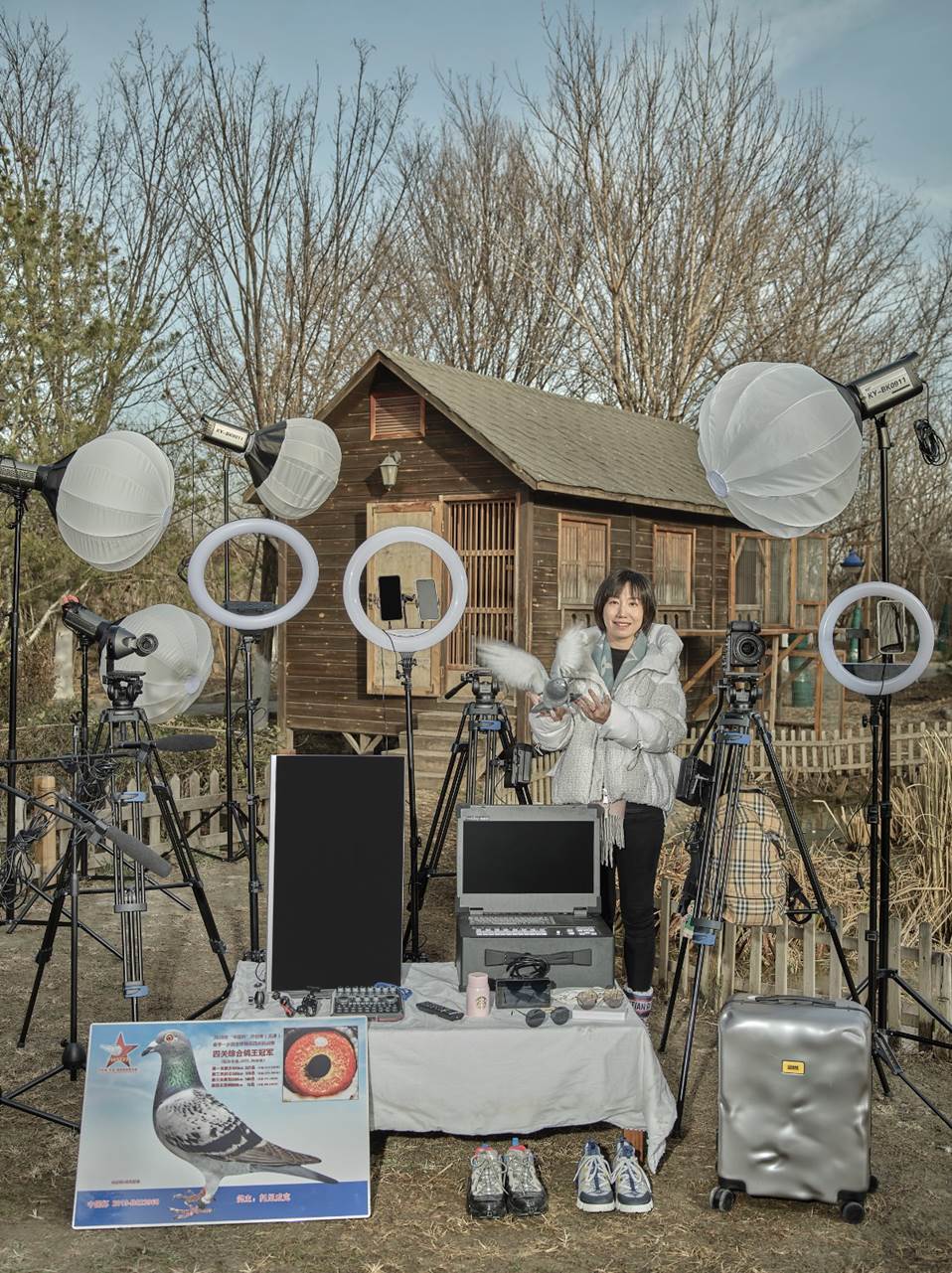 图片说明:
6、熊兔儿•信鸽•正能量
35岁,天津
直播地点:室外
直播间面积:天有多大,直播间就有多大
最重要的直播间家当:户外直播用的太阳眼镜
权蕊的直播家当中,用来打光和拍摄的设备专业得令摄影师惊讶。这是她的直播内容决定的,在奔赴全国各地做赛事解读之外,她还从专业的角度展示信鸽,分享信鸽专业知识。有时在室内做信鸽用品的电商直播,对器材的要求比较高。十年前,权蕊是一名普通的互联网媒体从业人员,因为发现信鸽行业线上化的空白,投身至这一行业。现在她已经是信鸽这个小众行业的头部主播,粉丝达到42万。直播赛事时,等待信鸽归巢是权蕊最激动的时刻,"穿破云雨,天黑之前一定要回家",她形容这些鸽子。鸽主与信鸽之间的关系,就是"等待"。她还说:"仰望天空看鸽子飞翔的时候,心旷神怡,忘掉了一切烦恼"。
6. Naughty Bunny·Carrier Pigeon·Positive Energy
35 years old, from Tianjin
Streaming room: Outdoor
Room Area: As far as the sky holds
The most important'stuff' for streaming: Her sunglasses for outdoor streaming.
Quan Rui's 'stuff' for photographic lighting and shooting would amaze any photographer for their professional standard. Her career requires her to be highly professional. Apart from commenting on matches nationwide, she also shows carrier pigeons from a professional perspective and shares her knowledge with her followers. Sometimes she needs to do e-business live streaming indoors, professional devices are essential. Quan worked as an ordinary IT business staff 10 years ago, she devoted herself to her current career after discovering the vacuum of the carrier pigeon business online. With 420k followers, she has become the head streamer of the carrier pigeon business, a niche nowadays. Waiting for carrier pigeons returning home would be the most fascinating moment for Quan: Breaking through storm and dark clouds, the homing pigeons return before nightfall. She chooses the word 'wait' to define the relationship between pigeons and their owners. As she says, watching pigeons flying brings a breeze to her mind and rids her of any disturbance.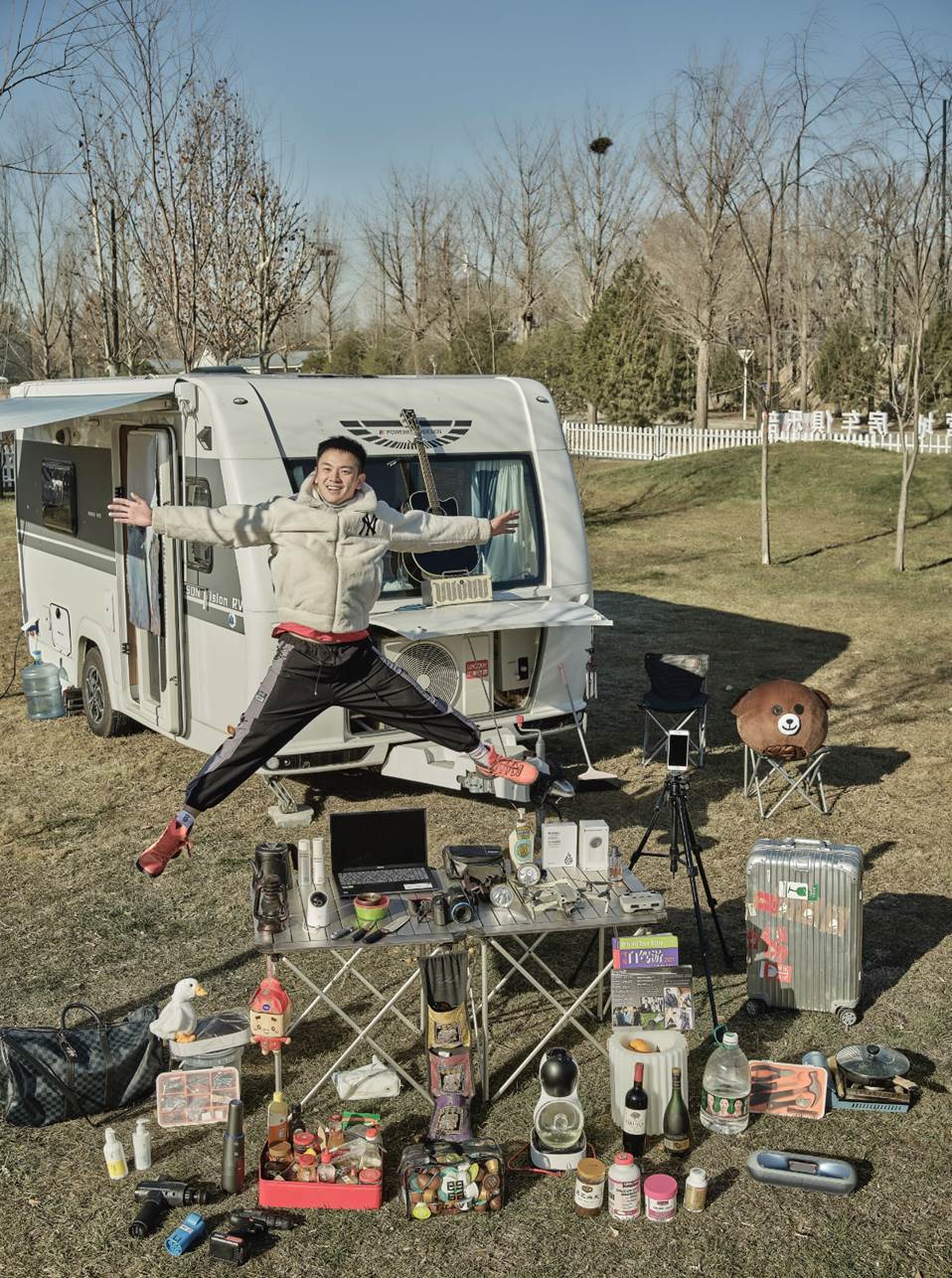 图片说明:
7、海海的房车生活
31岁,山东青岛
直播地点:房车内
直播间面积:11.5平米
最重要的一件直播家当:房车
3年前,马率是个不红的北漂"小鲜肉"男演员,那时候做直播,聊的都是自己当演员的那些事儿,每场直播平均在线粉丝3个。今年3月,他买了一辆房车作为自己的新家,从此不再为房东打工,彻底改变了生活方式。他直播的时间通常从晚上7点开始,他说,大家吃完晚饭,正好聊点儿茶余饭后的好玩事儿,比如他的房车生活。现在"海海的房车生活"积累了3万粉丝,最多的一次,直播间有4000人同时在线,总观看量十几万。留言区里,很多人正在过着北漂租房的生活,马率希望通过直播,给他们带去另一种生活的可能。现在,马率仍是个不怎么红的男演员,但是现在去试镜,拍戏去通勤,他可以开着自己的房车,带上自己的全部家当去。房车生活,他说不知道自己会持续多久,就算一辈子又何妨呢?
7. Oceanie's Limo Life
31 years old, from Qingdao, Shandong Province
Streaming room: His limousine
Room area: 11.5㎡
The most important 'stuff' for streaming: His 'Limo'
Ma Shuai was a fresh-faced but undistinguished actor who came to Beijing to pursue his dream three years ago. With an average of three listeners for each streaming, he began his live-streaming career by talking about stuff he met as an actor. He bought a limousine as his new home in March, thus putting an end to his previous life as a tenant. His streaming schedule usually starts from 7 pm, when most people have just finished their dinner. Ma believes that it is a good and relaxing time for people to talk about funny stuff they have met such as things that happened in his limousine. Up to now, his Kuaishou account has more than 30k followers and several hundred thousand view counts, there was once 4000 concurrent users in his streaming room. Many 'Beijing drifters' have left their comment in Ma's streaming room, they are living in Ma's previous lifestyle: paying a large sum of rent to their landowners and feel their lives in Beijing unrooted. Ma hopes to bring the other kind of lifestyle to them by streaming. Ma remains an undistinguished actor now, yet his 'Limo' accompanies him every time he takes audition or commutes, his 'stuff' is with him all the time. Ma says that he is uncertain how long his limo life will last, yet a lifelong journey on the limousine seems not a bad choice.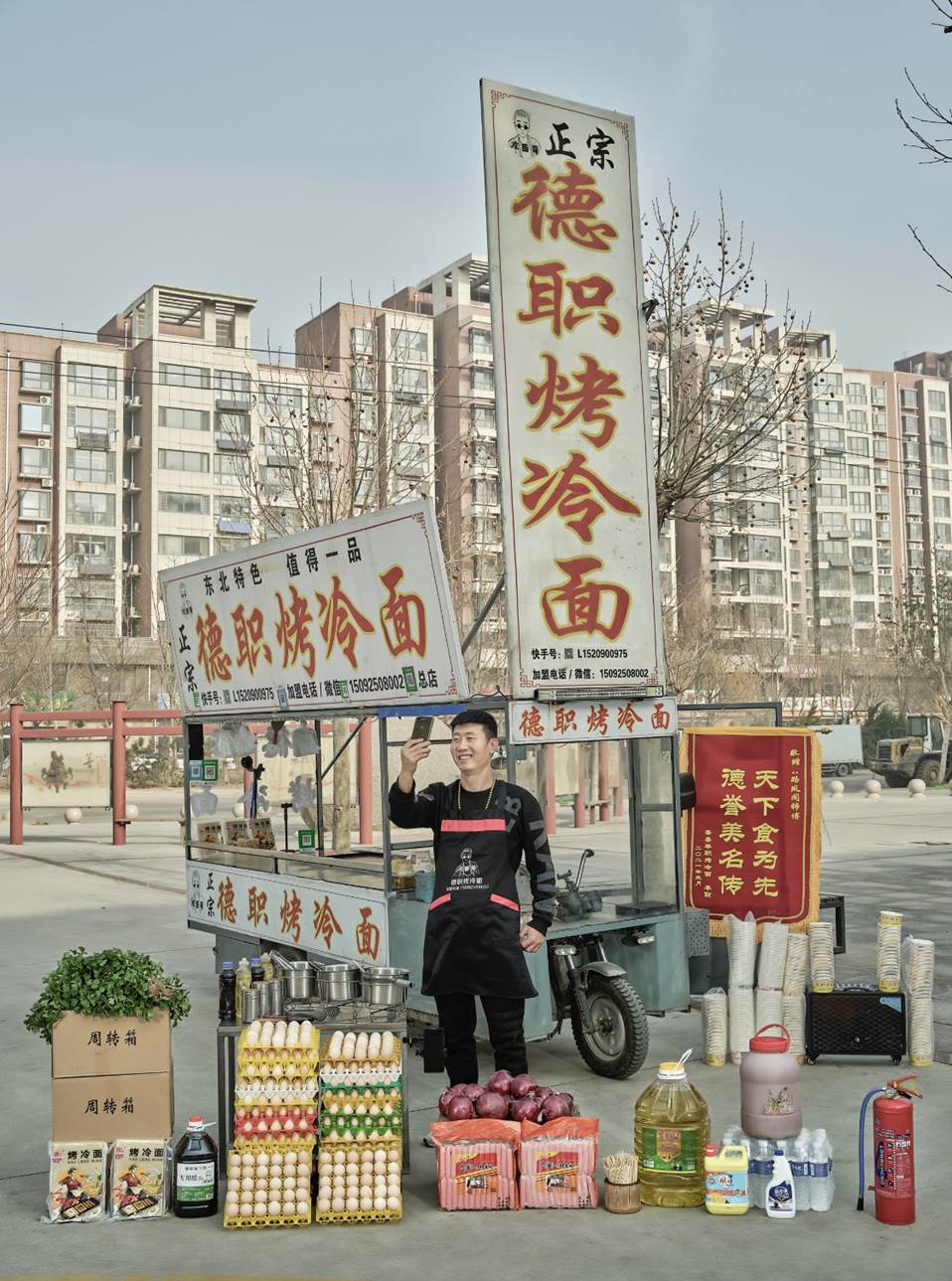 图片说明:
8、德州烤冷面哥
38岁,山东滨州
直播地点:餐车前
直播间面积:8平方米
最重要的一件直播家当:烤冷面战车
看着路凤阁展示出的家当,烤冷面的香味扑面而来。这个山东大汉已经卖了11年的烤冷面,战车换了好几辆。最新的这辆"变形金刚战车"每晚停在德州职业技术学院门口,动感的音乐一开,面皮一摊,人们就围上来了。路凤阁的直播间也一样,镜头对准铁板,几张面皮在上边滋滋作响,路凤阁在画面边缘露出半个身子,打火、摊面、铺菜、撒料,涂抹酱料。在快手平台上,他有10万粉丝,而快手直播间为他带来了众多的学员——媒体平台上,报道路凤阁的新闻标题中,最显眼的便是"年入百万"四字,光是今年,从全国各地慕名而来的学员就有1000多个——此外还有模仿者。商标和战车能仿造,精心调制的酱料可不能。路凤阁在快手主页上郑重打下一行字,是愿望也是决心:一直被模仿,从未被超越。
8. The Grilled Cold Noodle Guy in Dezhou Vocational and Technical College
38 years old, from Binzhou, Shandong Province
Streaming room: His food truck
Room area:8㎡
The most important 'stuff' for streaming: His grilled cold noodles 'Chariot"
When watching Lu Fengge's 'stuff', you will be instantly greeted with the fabulous scent of grilled cold noodles. This big fellow from Shandong has been selling grilled cold noodles for over 11 years. He has changed several food trucks during the 11 years, his latest one is called 'The Transformer Chariot". Whenever he plays dynamic music and puts the flour pieces on the iron plate, his chariot would be instantly gathered with customers. As he turns the camera to the iron plate, Lu's noodles also capture multiples of audiences in his streaming room. With the flour pieces sizzling on the iron plate, Lu reveals himself from the edge of the camera, he skillfully opens fire, rolls the flour pieces, puts the ingredients and adds relishes and sauces. He has over 100k followers in Kuaishou and multiple trainees come to learn his techniques via his streaming room. 'Making money in millions' is the most distinguishing news title concerning Lu on social media. Over a thousand trainees came to learn Lu's grill skills this year. Many copycats emerge following Lu's success. However, even if they can imitate Lu's 'chariot' and trademark, these copycats cannot steal Lu's secret sauce made with precision. Lu leaves a sentence on his Kuaishou homepage to show his determination and aspiration: Imitated all the time, never been surpassed.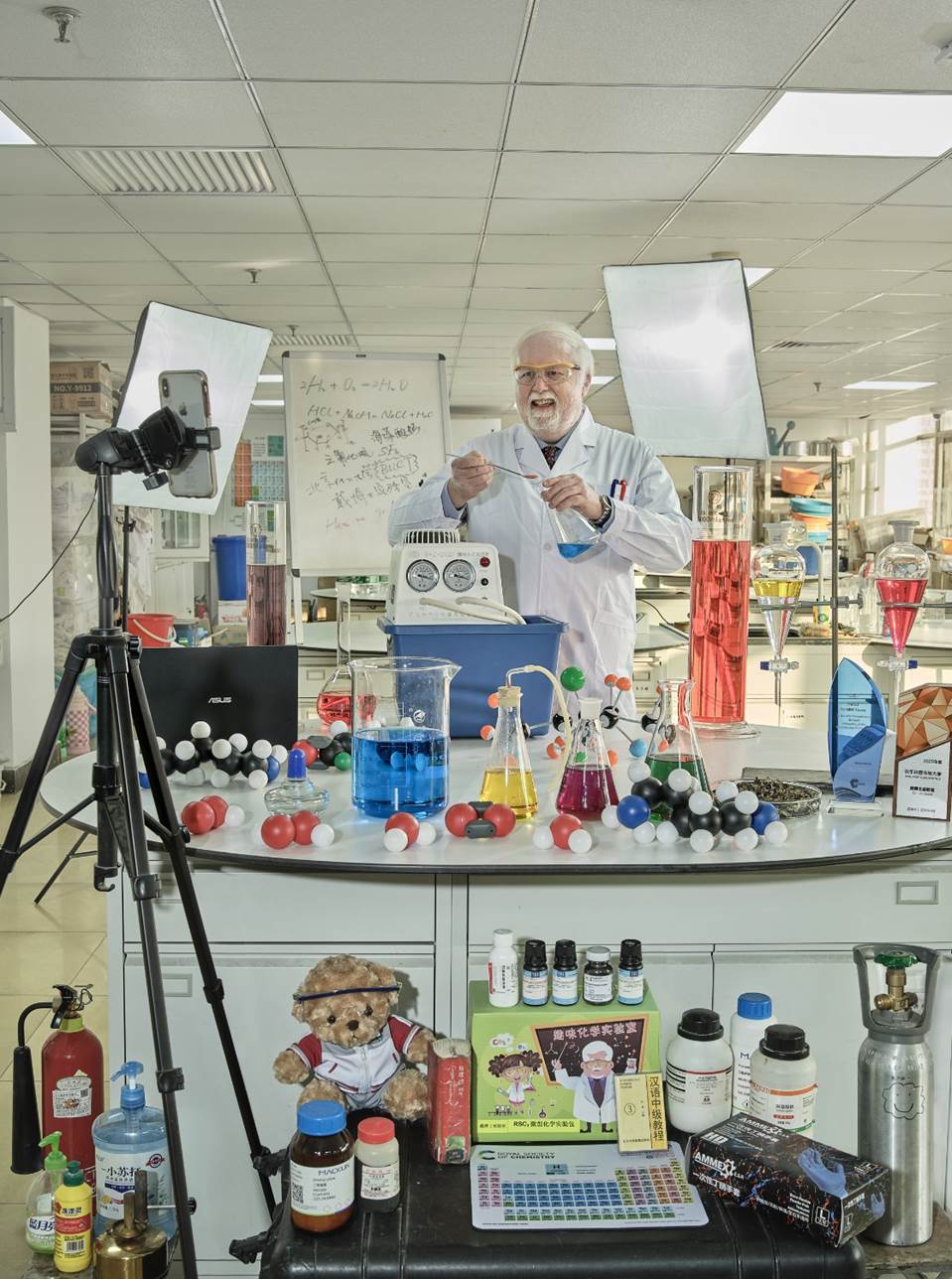 图片说明:
9、戴博士实验室
64岁,英国伯明翰
直播地点:北京化工大学的科普实验室
直播间面积:100平米
最重要的直播间家当:30年前刚学习中文时的录音机和磁带
戴伟出生在伯明翰,但祖籍——他说,这是中国人的说法——是威尔士。而他又是威尔士球迷,所以他自称威尔士人。1987年第一次来中国时,戴伟乘绿皮火车从北京去贵阳讲课,整整坐了33个小时。现在再去,8、9个小时的高铁就到了。回到英国,他发现家乡的火车还是那么慢,就告诉朋友们:"你来中国吧,中国的高铁非常好!"戴伟一直是北京化工大学的化学教授,2011年开始做科普,2018年接触到快手,开始在快手上以短视频的形式做科普,至今积累了近一千万粉丝。"拍短视频也是一种化学实验",他说,"传播趣味性和知识点很重要。做科普,我们不能被动地等,要主动寻找他们,快手让我见到了平常不容易接触的人。"
9. Dr Dai's Laboratory
64 years old, from Birmingham, UK
Streaming room: His laboratory for science popularization in Beijing University of Chemical Technology
Room area: 100㎡
The most important 'stuff' for streaming: The video recorder and cassettes that he used to learn Mandarin three decades ago.
David G. Evans was born in Birmingham, yet his ancestral home is in Wales. Besides, he is a big fan of Welsh football and therefore he claims himself to be a Welsh. When he came to China for the first time in 1987, the train from Beijing to Guiyang took him 33 hours, whilst the same route only takes 8 or 9 hours by high-speed train now. After returning to the UK, he found the railway system there was slow as usual. David persuaded his friends to come to China: 'Please do come to China! Their high-speed trains are magnificent!' David is a Professor of Chemistry at the Beijing University of Chemical Technology, he started science popularization in 2011 and he got to know Kuaishou in 2018. From then on, he has begun to popularize science by uploading short videos in Kuaishou. Up to now, he has almost 10 million followers. David says, 'Shooting short videos is another type of chemical experiment. Conveying interest and knowledge is important. It requires effort to find those in need rather than wait passively. Kuaishou gives me the chance to know people that I cannot meet in ordinary life.